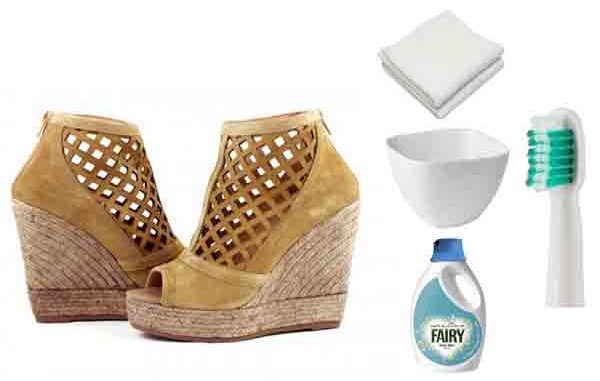 The espadrille shoe is made of jute rope. Jute fibres and fabrics most limiting factor are that they are greatly weakened when they come close to the water. That's why we should be very careful when cleaning espadrille shoes. Some of the shoes you can easily wash it in the washing machine. But espadrille shoe is not one of them. Because espadrille shoe soles are made of jute which can weaken or twisted during the spin inside the washing machine.
Cleaning rule 1: Never use a washing machine. It will damage the shape of the shoe during the spin cycle.
Cleaning rule 2: Clean your espadrille shoe by hand.
Things you need to clean jute shoes:



Any good quality mild detergent
Cotton cloths or microfiber cloth
Small bowl
Soft tooth brush
Leather cleaner
Best Tips:
When the mud is still wet, let it dry first. Otherwise, you risk driving it deeper inside the espadrille sole.
Gently use the toothbrush. Don't scrub too hard because it could cause strands of the jute rope.
For best result clean them off within 24 hours of when soil occurs and take several attempts.
Cleaning the jute rope soles first
Wait for any mud or dirt to dry before you begin. If you start scrubbing when it hasn't completely wet, dirt will sink deeper into the material. Take a small bowl and pour a tablespoon of mild detergent like you can use unscented dishwashing liquid add two cups of water and stir.
Take dry cotton clothes and to remove the loose mud or dirt. Dip the toothbrush into the detergent that you made, then softly scrub the jute soles. Try to get all the mud out of the cracks. Take the cotton cloth slightly dampened with lukewarm water and wipe off the soap from the soul.
Clean the upper part of the espadrille shoes
Take clean cotton cloths and dip a corner into the detergent water. In a circular motion, scrub off the dirt. Now use the clean side of the cotton and damp it with water to rinse off the soap. You can repeat it until you are satisfied. Let it dry in the air. If the upper part of the shoe is leather then use a commercial cleaner. Check the instructions on how to use that commercial cleaner.
If you are lucky to live in an area where there is plenty of sunshine, leave your shoe under the sun. If will be ready within few hours. You can also use your hair dryer but make sure to put it to low temperature. Extreme heat can damage the jute fibres.
Last advice
Jute is a vegetable fibre. If you want to keep them in perfect condition then protect it from moisture. So that you can keep them in perfect condition and use it for a long time. Avoid classic cardboard box. You can use transparent bags that will protect from moisture.