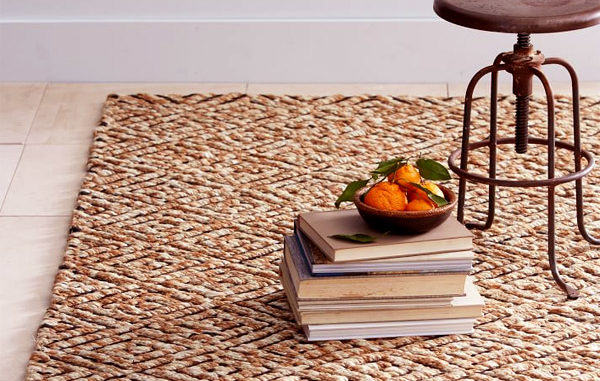 For as long as I can remember, my parents have been using jute rugs in our living room since my childhood. Now when I see jute rugs in other people's houses it makes me feel very nostalgic. So it's no surprise to anyone that when I eventually moved into my own house, I obviously bought jute rugs for our living room as well. You might ask why I have chosen to use jute rugs instead of other materials. Let me tell you then about the jute rugs pros and cons.
Jute rugs offer inherent natural beauty to any space and it creates high fashion design with an ethical state of mind. Jute as a material for rugs gives a tweedy look and it's very soft underfoot. It is completely eco-friendly and natural and so less likely to cause skin irritations.
Jute is an amazing natural golden fibre harvested by hand, dried and hand spun into cords which are then tightly woven to create beautiful rugs.
Here are some tips I have found helpful on buying jute rugs
Jute Rugs Pros:
Jute rugs are suitable for high traffic areas or open concept homes and needed very low maintenance. Since I have them, they still look new and fresh. It can easily absorb dust and doesn't show any wear or tear. You can easily match with them with other rugs
Jute rugs are easy to clean. I vacuum rugs once a week. Sometimes these rugs hide everything like hair, debris or any other dirt but when you vacuum them it will pick up everything. Just try to avoid the binding of the rugs because vacuuming the stitched area can cause damage sometimes. I am being serious that the maintenance cost is very low.
Jute rugs always look clean and don't show any ageing. I just love the look of these rugs. They provide instant warmth to a room. They always look very cosy, warm and add neutral style in my room. I always prefer the classic style but you can get them in different colour or patterns as well. They go with about any style. I have seen them used in a variety of decorating genres. It feels rough and you will feel like walking on hay.
Jute rugs are not expensive. Natural fibre rugs are generally less expensive than other fibre rugs. As prices are affordable which allows you to get a bigger size. You can also buy small sizes depending on the size of your room.
Jute rugs are pet-friendly as it is easy to clean and help to catch dirt and sand from your pet's paws. But jute rugs tend to show liquid stains. I advise you choose the right colour if you got a pet in your house. For example, your cat's hair colour is white and you bought a dark colour rug. That will be a mistake. When you are looking for a pet-friendly design, you must consider patterns and colour combination.
Jute rugs are made of non-toxic natural fibre that actually repels dust mites. Since dust mite is one of the causes of allergies, it is very important to start at the source and that is where you rest your feet.  Regular cleaning and placement of your jute rugs are important to avoid to eliminate other types of allergies.
Since jute rugs are made of natural materials, it was made without the use of the chemical. This made it an ideal rug to use in a nursery or a child's room.
I have noticed as well that it can also reduce noise and static electricity. It can reduce noise because the material insulates heat and sound.
Other advantages include its lower thermal conductivity properties and it is also fire resistant. Its natural oils and inherent structure will catch fire but the fire will not stay lit for long.
Jute Rugs Cons:
There is just one little thing about jute rugs that I am a bit wary of, and that is it "shed" dust. Even though I tried to vacuum around the edges, the pad still catches most of it. Although some of it are not really dust but little fibres that fell out from the rug and they are easy to clean up.
This one depends on the person if this will be a disadvantage but when you first roll out the rug you will notice a pretty strong scent that will come out from the natural fibre. It will quickly go away anyway. Since it's made of natural material, I believe it would not be an issue for long.
Even though jute rugs is known for its durability, it is not advisable to use it in a humid or damp environment as it is quite absorbent. It can become moldy, mildewed or it may even fall apart.
Since jute rugs are quite absorbent as I have mentioned earlier, we cannot use steam cleaner because the moisture will ruin it. It is not advisable as well to use rug cleaners and spot cleaners. These can stain or discolour the natural tones of the rugs. Also, try to avoid exposing it to direct sunlight as it will cause the colour to fade.
There you have it, the jute rugs pros and cons. Now it's up to you whether you choose to use jute rugs for your home since it will depend on your style preference anyway. Just to remind you that jute has this unique look and feel to it that hopefully, you will love it as much as I do. I hope this post is helpful. Please share your experience in the comment section below about your experience in using jute rugs.  I may not be a rug expert but I do have quite a lot of experience in using it.